How To Quintuple Your Content's Traffic
Since the Panda Updates and Google's strong move towards personal search - many experts believe SEO has become less effective for getting traffic. While this is not entirely true, webmasters should be looking for ways to get more traffic "outside" of the search engines.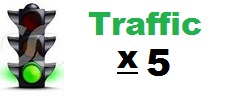 How To Quintuple Your Content's Traffic!
As you probably already know, SEO is becoming much more competitive on the web these days. Relying solely on the search engines for traffic may not be the wisest route to take, since we have seen many sites lose their rankings in Google almost overnight.
So you need to explore how to extend the reach of your content to bring in more visitors, ones which are not depended exclusively on the search engines or your rankings. Besides, submitting your re-print articles to directories and other sites have become much less effective on a Post-Panda web.
So here's what I am doing to give my original content more impact. Once I have written an article I see if I can...
1. Turn It Into A Video
Can the article or content be easily turned into a video which I can place on one of my YouTube channels. Videos are a great way to expand the reach of your content or article. A good helpful video will get embedded on 100's of sites around the web.
I also make sure that the end of my video has a "call to action" such as visit our site to download a free guide or software. Even if your YouTube video doesn't have a direct link back to your site, including this call to action will get many viewers typing in your URL and visiting your site.
Here's one of my YouTube Channels:
http://www.youtube.com/user/laptopguide
2. Turn It Into A SlideShow
This is something which is even more easier than making a video - do a simple slideshow of your article or content. I find this works best if you have a numbered list or step-by-step directions in your material.
For example, you could do a simple slideshow of this article and entitle it: "Five Simple Ways To Quintuple Your Content's Traffic!" One of the best places I have found for submitting your slideshows is
www.slideshare.net/bizwaremagic
3. Turn It Into PDF File or Ebook
You can also turn your article or content into a PDF file which can be easily downloaded and shared. These files can be crawled by the search engines and your backlinks indexed. Another idea to give your articles more exposure is to simply compile them into an handy ebook. Many online marketers then use these ebooks as free gifts to help build their lists, gain Twitter followers or to get Facebook "likes".
4. Place Your Article In An Ezine
One of my most effective ways to get more traffic from my articles is to submit them to popular ezines or newsletters. Having your article in an ezine that goes out to 100's of thousands will bring more traffic to your site. In certain cases, I will even write an unique article for a particular site if I know they will also feature it in their newsletter. Two good places for this is SiteProNews and Site-Reference.
5. Do A Press Release
If you add an excellent piece of content to your site, do a Press Release announcing the updated content. This can be a great way to attract more visitors to your site. While most Press Releases can be on the expensive side, keep in mind, there are many free services on the web which you can use.
I find using a service like PRweb to be really effective because you can even frame your article/content in the press release on their site. This gives even greater exposure to your material. Plus, many sites around the web, will pick up your release and place it on their sites.
If you're like me and will be doing a lot of Press Releases throughout the year, you should look at buying a package deal or yearly subscription as this can save you or your company a ton of money.
These are just five simple ways to expand the reach of your original content. Just create a different "mindset" when it comes to promoting your article/content to search for ways to expand its reach and traffic. Use the five simple methods above as your starting points. Go get 'em!
Related Articles:
...

All views, opinions and conclusions expressed in this article are solely those of the author who is a full time online affiliate marketer. He earns a living by ranking high in the search engines for lucrative keywords. His main site offers Free Guides on everything associated with running a business from Corporate Business Gifts to Online Fax Providers. Titus Hoskins Copyright.
Want to thank BWMagic for this content? Tell a friend about us, add a link to this page - or visit our main page for more free guides & marketing content.
Link to this page:
Please bookmark with social media, your votes are noticed and greatly appreciated: